Beall Center Catalog 3-Pack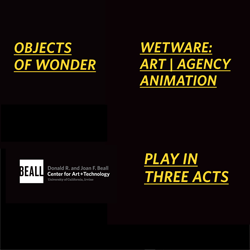 This 3-pack of catalogs features examples of the extraordinary intermedia exhibitions from UC Irvine's Beall Center for Art + Technology. Including selected shows from 2015-2016, this book bundle is the perfect introduction to the dynamic focus of the Beall Center: exploring the intersections between art, technology, science, and design. The included texts are:
Play: In Three Acts (on view January 7-May 23, 2015):
This exhibition and catalog highlights the work of three artists - Joe McKay, David Rokeby, and Nina Waisman. Each artist explores various modes of interaction within their work: Waisman and Rokeby incorporate sound and embodied interaction; McKay incorporates playful interaction around competition and cooperation. Includes an essay by Edward Shanken and introduction by Artistic Director/Curator David Familian.
Objects of Wonder (on view October 3, 2015 – January 23, 2016)
This exhibition and catalog brings together a wide range of international artists whose work exhibits strange and unusual functions, engaging in conceptual phenomena like time, light, energy, evolution and changes of state. Co-Curated by David Familian and Madeline Schwartzman, Objects of Wonder included works by Antony Hall, James Auger & Jimmy Loizeau, Eric Dyer, Glenn Kaino, Jeff Weiss, Kathryn Fleming, Laura Splan, Pascual Sisto, Rafael Araujo, Suzanne Anker, Tania Blanco, Jennifer & Kevin McCoy, and Moving Parts Press. Includes an essay by Madeline Schwartzman and introduction by Artistic Director/Co-Curator David Familian.
WETWARE: Art | Agency | Animation (on view February 6 – May 7, 2016)
WETWARE features art in the light of today's convergent living technologies: While artists have previously staged "Artificial life" through the hardware and software of computers and robotics to simulate living systems, increasingly it emerges from wetware itself. Whether touching upon the brain's position between spiritualism and metabolism, the synthesis of luminescent protocells from scratch, or microbes that possess the technical ability to make gold and clean water, contemporary artists who employ laboratory methods in the context of Synthetic Biology are getting particularly "close to life" today. Exhibition artists include Adam Brown, Gilberto Esparza, Thomas Feuerstein, Lucie Strecker & Klaus Spiess, and Orkan Telhan. In addition, Evelina Domnitch & Dmitry Gelfand (with sound by Richard Chartier) and Anna Dumitriu present new works developed during their three-week residencies at the Beall in collaboration with the UCI Center for Complex Biological Systems and the UCI Newkirk Center for Science & Society. Includes an essay by Co-Curator Jens Hauser, and an introduction by Artistic Director/Co-Curator David Familian.
This 3 pack is available for $50.00 and available here.